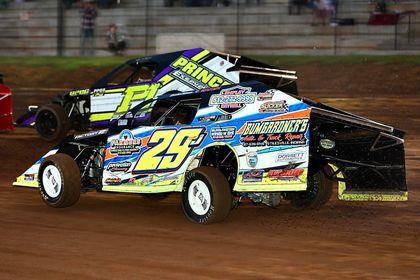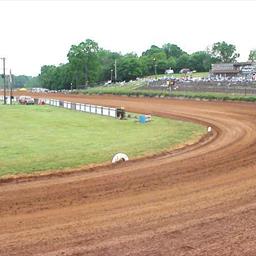 3/26/2023
Bloomington Speedway
---
Jordan Wever: Bloomington and Indiana King
For Jordan Wever winning his second Indiana UMP modified title in 2022 was satisfying but the real cherry on top was snaring track championships at Bloomington and Brownstown. This was personal. Wever was raised within a stone's throw of Bloomington Speedway. He attended Clear Creek Elementary and would eventually graduate from Bloomington South High School. One thing is for certain, he also got an education outside of the classroom. "I can remember being in race shops as long as I can remember," then he adds with a laugh, "that's where I grew up."
Technically Jordan is the first member of his family to grab the wheel although racers can be found in the kin network. That does not mean the Wever's were on the sidelines. His father Cory spent plenty of time helping modified aces Roddy Harris, Shelby Miles, and Clint DeMoss. One of Cory's friends had kids involved in karting. What happened next was inevitable. "We went with them a couple of times," Jordan says, "and we got hooked and had to get one. That is how it all started."
By 2007 Wever began racing at Bakersfield Raceway in Linton, Indiana, and then headed north to Ben Hur Speedway in Crawfordsville. It went well. "We had a lot of success," he recalls, "Nearly everywhere we went we had a shot at winning. When you are a young kid that was all you could ask for." For the next four years he raced extensively in karts and ventured well beyond Indiana.
The time came to move on. He next moved to a hornet; a decision based on solid logic. "The idea," he says, "was to get acclimated to racing a bigger car and to race on a bigger stage than I was used to." After about twenty-five races in this division, he moved to a mini sprint. Looking back to his time in these open wheel cars, he says "It was fun. It is its own little animal and a different kind of racing than I was used to being a stock car guy."
Given his father's involvement in modifieds it seems natural that he would move in this direction. He got his feet wet in this division in 2014, and in August 2015 he notched his first win at Bloomington Speedway. It was an emotional moment. "That was awesome," he says, "I don't think I could have scripted that any better. It was cool to win at Bloomington."
The modifieds are a tough lot. As a young man he looked up to Devin Gilpin and says he learned a lot from the Columbus, Indiana racer. As he matured and started racing up front, he found that Derek Groomer was consistently his toughest competitor. "I grew up watching him race," Jordan says, "and it is cool to be out there with the veterans and do what they do. Derek does a really good job. He is by far the biggest competitor." In fact it was Groomer who tussled with Jordan all summer in the Indiana UMP chase but Wever's 11 wins and overall consistency spelled the difference.
In all life is good. Jordan and girlfriend Abby Stierwalt welcome son Jarrett in the winter months and that alone is keeping them busy. Nonetheless, Abby, who was a hornet winner at Lincoln Park Speedway in 2022 plans on returning and may do some events in a super stock. "She loves it," Jordan says, "I try to find time to help her and support her because she has been really good to me."
The other person who is instrumental in Wever's success is car owner Carlos Baumgardner. Baumgardner knows a thing or two about winning races. "Carlos is more like family than a car owner," Jordan says, "I am really grateful for what he does for me." Wever has already spent time testing a late model in 2023 and is optimistic that he can master this car as well. In the end getting him to the track is a team effort. Carlos may own the car, but his dad pitches in, and his grandfather Jim Wever can always be found at the track in his omnipresent white tee-shirt. Uncle Bill Wever is a great patron of racing, and has helped Jordan obtain some vital sponsorship. It is a great time for Jordan Wever and everything suggests we will be hearing from him for years to come.
---
Article Credit: Patrick Sullivan
Submitted By: Jill Spiker
Back to News