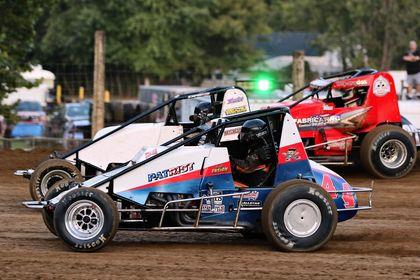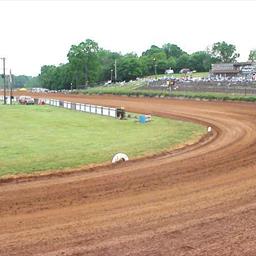 3/21/2023
Bloomington Speedway
---
Geoff Ensign 2022 Bloomington Speedway Sprint Car Champion
Sebastopol, California lies fifty-five miles north of San Francisco amid some of the most beautiful territory in this Nation. Yet, for Geoff Ensign the desire to take his sprint car career up a notch led him to pack up and move to Indiana. His wife Shayna was behind the decision as well. She was in love with the sport too, and had every intention of doing more than watching from the pit grandstands.
The truth is both Ensign's were lucky to be able to race at all. The couple were in their hometown driving down a side street on a motorcycle at around 30 to 35 miles per hour when disaster struck. Out of nowhere a car pulled directly into their path. Shayna was just shaken up a bit. Geoff was not so lucky. The main damage was to his hip. There would be surgeries, plates, and screws, and plenty of physical therapy. It was agonizing but he was determined to get back behind the wheel. On September 20, 2020, Geoff and Shayna signed in at Petaluma Speedway to compete in the non-wing 360 class. There were doubts. Geoff still walked with a limp and had been on the shelf for some time. On this night, his main adversary would be his wife. Veteran fans knew exactly what the score would be. When the green flag fell on the feature Shayna got out front, and she was not about to just let her husband win. That is not her style. There were slide jobs, and contact, but in the end Geoff triumphed. The crowd was delirious. The man track announcer Ron Lingron deemed "The Human Highlight Reel" was back.
Ensign is a third-generation racer who began working right alongside his family in the pits. He started at 15 in the pure stock division at Petaluma putting a 1978 Dodge Aspen through its paces. Looking back, he says, "I basically knocked the windows out, put a roll cage in it and went racing." He decided to try to make racing a career and traveled to North Carolina to attend the NASCAR Technical Institute. One night while driving around Geoff spotted the open garage of ARCA racer Nick Turner. In a blink of an eye, he was on his way to Salem, Indiana with the team. Later he would join forces with Kyle Strickler (The High Side Tickler) who was racing big block modifieds in the Northeast. It was an education. "It was a great experience for me at 18 years old," he recalls, "I was like the tire guy and I really did whatever they needed
However, deep down he knew he wanted to race. When his dad Rob Ensign acquired a two-barrel sprint car Geoff was headed back to California. He was a quick learner. In 2011 he was the USAC Western Classic sprint car champion racing for well-known patrons of the sport Ted and Rose Finkenbinder. From there he became an established threat in Northern California and was ready to branch out. In 2014 he raced in Australia and was the Victoria State champion for owner Jason Smith. A signature win came when he topped the 360-sprint car portion of the 2016 Turkey Night Grand Prix at Ventura. The following season was even better. Focusing on 360 sprint car racing he was the 2017 Petaluma Speedway and Ocean Speedway champion. Two years later he tried something different and went wing sprint car racing. He took on the tough King of the West series and was unfazed. He finished in the 5th position in final points, was named Rookie of the Year, and had the distinction of passing the most cars in competition over the course of the year by a wide margin over Bud Kaeding.
Then came the accident, and later the continued uncertainty around the future of places like Petaluma Speedway. Geoff Ensign had a dream. He wanted to move to Indiana and really see how far he could go in the sport. The Ensign's watched others from California take the plunge and reasoned they could make it work. "We wanted to go to a place where we could race and live our lifestyle," Geoff says, "and we were interested in the social part of it." The couple found property in rural Bainbridge, Indiana. In their new setting they have room to spread out and have a shop all their own. Reflecting on their situation shortly after relocating Geoff said, "We were barely getting by in California and we come out here and it feels like we are millionaires."
The resilience shown in making a significant life move was demonstrated on the track. There was a night at Lincoln Park where mechanical woes hit early. They loaded up, hustled home, and came back with the family 360 powered sprint car. Everyone was on notice. There was not an ounce of quit in this couple.
Two victories and six top-five finishes propelled Ensign to the 2022 Bloomington Speedway sprint car title. It validated all the arduous work it took to get here. Things could not be going better. In the off-season Geoff and Shayna welcome their first child. Be it noted that Cooper William Ensing was born a Hoosier.
---
Article Credit: Patrick Sullivan
Submitted By: Jill Spiker
Back to News