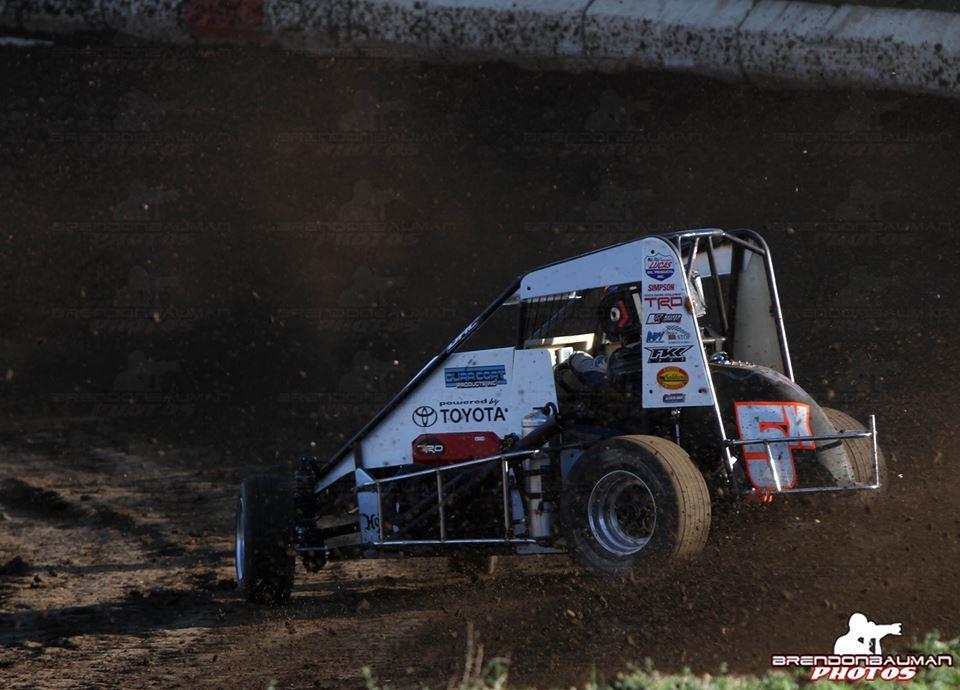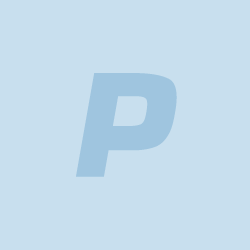 6/15/2016
---
Peck Finishes POWRi Speed Week on High Note
(Photo by Brendon Bauman Photos)
LINCOLN, Ill. – A grueling stretch of eight midget racing events in a span of 13 days is complete for Monrovia, Ind. racer Justin Peck. Though the results were mixed, Peck managed to capture three top-ten finishes, including capping the string of races with a third-place run at Lincoln (Ill.) Speedway's POWRI Speed Week finale.
The stretch started for the young racer as a hired gun, behind the wheel of Kenny Irwin's No. 7K at one of Peck's favorite tracks, Montpelier (Ind.) Motor Speedway on May 31. There, Peck looked primed for a great start to USAC's Indiana Midget Week, but an early crash sidelined the team in the main event; Peck retired the machine to the pits via a tow truck, and was scored in 22nd.
The machine was back in action the following night, however, and Peck raced his way back onto the scene. A ninth-place effort neared his top USAC finish of his career.
However, the Irwin team looked over the chassis after the event and felt that the damage from the previous night's crash required further attention, and that they were done competing for the week. In light of this, Peck and his family rolled out their No. 5X Toyota-powered DRC Chassis for the Friday night event at Bloomington Speedway after taking that Thursday night off. Struggling to find the sweet spot in the setup, Peck just missed out on transferring from the B-Main into the feature, finishing seventh when only the top six advanced.
Returning north to their shop, the team regrouped for the following week of racing, Illinois Speed Week, sanctioned by POWRi. The tight fifth-mile oval in Belleville, Ill., dubbed Belle-Clair Speedway, would kick off the action on Wednesday night. A nifty pill draw put Peck on the pole for heat one, and he handily took that victory. The passing point lineup placed the 5X fifth on the board; trouble early for Peck was countered with a strong drive back through part of the field, and culminated in an eighth-place finish.
Quincy Raceway was up next; another tight track, though slightly bigger than Belle-Clair, Peck again took a heat race victory. This time, he won from outside the front row in heat three. Starting third, there was a great outlook for the feature event, but that soon washed away, as Peck hit a rut and got upside down. Moderate damage to the car was sustained, but Peck climbed out unharmed, and was scored in 18th position.
Resilience would hold true for the Peck Motorsports team, as they arrived at Jacksonville Speedway to do battle once more. Similarly to the previous Friday night at Bloomington, the team couldn't get things to click early on, and that set the tone for the rest of the night. Falling back to seventh from outside second row in his heat race, Peck, was forced to run the B-Main, but the results wouldn't be any better there. Utilizing his first provisional of the season to start 23rd in the main event, things did begin to look up, as Peck was able to maneuver forward to finish 16th.
Two nights of weekend action remained. At Macon Speedway on Saturday, Peck again put on a strong run early; third to second in his heat race lined him up seventh for the 30-lap feature race. But yet again, heartbreak would strike before Peck was able to make his case for the win. Retiring with mechanical problems, the 5X was officially credited with 19th.
The final show of the arduous schedule was on deck at Lincoln Speedway. Though the car count began to fall off as teams failed to keep up, Peck Motorsports kept working hard, and the results paid off. Though a tough go in the heat race put them in the B-Main, their driver stayed cool and put on a clinic later in the night. Starting the main event way back in 19th, Peck was able to put his DRC anywhere on the racing surface and make it fast. In the end, the Mooresville (Ind.) High School student rallied his way up to third. "This car was great tonight. I can't thank everyone enough who helps out to make this happen," Peck announced. "I had a lot of fun tonight, and I'm sure they did too."
Peck would like to thank Dura Coat Products, Stanton Racing Engines, Factory Kahne, DRC Chassis, Simpson Race Products, Lucas Oil, Keizer Wheels, Hoosier Racing Tire, Saldana Racing Products, Thomas Railroad Construction, Pit Stop BBQ & Grill, Kwik Change Products, and Spider Graphix, as well as his parents, crew, and all of his fans for their continued support.
Peck is next scheduled to compete on June 18 at Mercer (Pa.) Raceway Park and on June 19 at Tri-City Raceway Park in Franklin, Pa. in Russ Grossman's No. 2G 305ci winged sprint entry.
Quick Results
May 31 – Montpelier, IN – Midget – Heat: 4th (3); Feature: 22nd (16)
June 1 – Gas City, IN – Midget – Heat: 10th (4); B-Main: 3rd (4); Feature: 9th (10)
June 3 – Bloomington, IN – Midget – Heat: 5th (7); B-Main: 7th (10)
June 8 – Belleville, IL – Midget – Heat: 1st (1); Feature: 8th (5)
June 9 – Quincy, IL – Midget – Heat: 1st (2); Feature: 18th (3)
June 10 – Jacksonville, IL – Midget – Heat: 7th (4); B-Main: 11th (12); Feature: 16th (23)
June 11– Macon, IL – Midget – Heat: 2nd (3); Feature: 19th (7)
June 12 – Lincoln, IL – Midget – Heat: 8th (8); Feature: 3rd (19)
2016 Stats
22 races, 21 features, 0 wins, 3 podiums, 8 top-fives, 11 top-tens, 4 DNFs
Social Media
Website: http://www.justinpeckracing.com
Facebook: http://www.facebook.com/justinpeckracing
Twitter: http://twitter.com/justin_peck5
Instagram: http://instagram.com/justin_peck5
---
Article Credit: Redbeard Promotions
Back to News