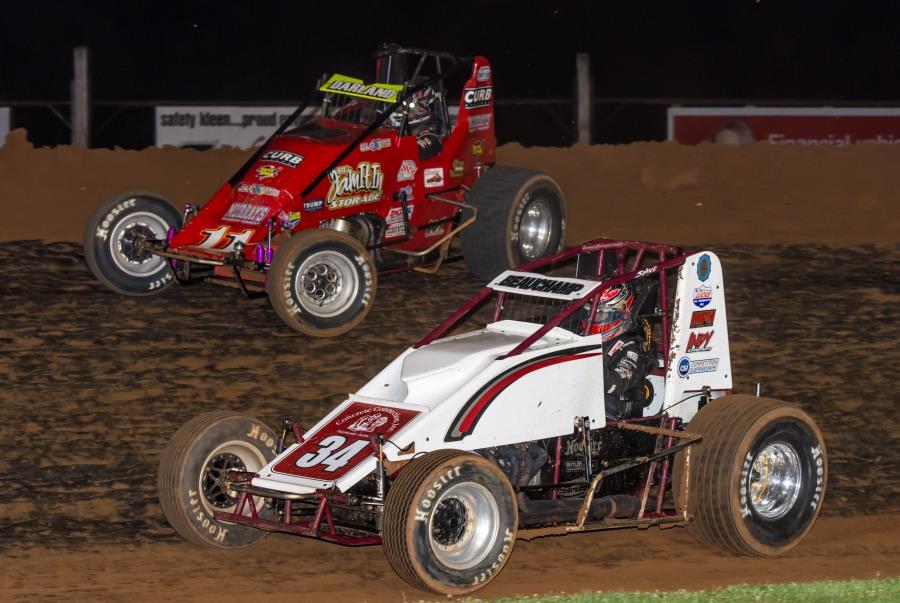 ---
Bloomington Belongs to Beauchamp; Becomes USAC Sprints' 3RD New Winner in Indiana Sprint Week
In a week chock-full of veteran drivers entering USAC victory lane for the first time, Brent Beauchamp became the latest to break through after prevailing in a classic duel with Dave Darland throughout the majority of the 30-lap event during round five of "Indiana Sprint Week" at Bloomington Speedway's 28th annual "Sheldon Kinser Memorial." A race that featured the most lead changes in a USAC AMSOIL National Sprint Car race in 15 years!
Beauchamp would start third in the 30-lap event, directly behind Dave Darland who began his race from the pole position for the second consecutive night.
As the green flag flew, Darland drew first blood, sliding up in front of outside front row starter Brady Bacon as the 24-car field filed into turn one.
Immediately, Darland gained company as Beauchamp utilized the bottom of the racetrack to pull even with Darland entering turn three, resulting in a dead heat at the line at the conclusion of lap one.
With Darland up on the high line and Beauchamp hugging the infield tires, the two engaged in a side-by-side war lap-after-lap with neither driver able to put more than a half car length's advantage between each other at the flag stand for the first eight laps of the feature.
Though credited with only three "official" lead changes at the start/finish line during the first one-third of the race, Darland and Beauchamp swapped the top spot a dozen times in the first eight laps. Darland's strong suit was on his entry into turns one and three where he was able to pull ahead by a car length midway through the corner while Beauchamp was able to propel himself off the exit of turns two and four to pull even on the inside of Darland down the front and back straightaways.
The two put on a show for the ages, running several identical-looking, side-by-side laps resulting in numerous photo finishes at the line with each successive circuit appearing as if the two were on a high-speed pace lap.
Without either able to break away up front, Beauchamp was able to edge ahead of Darland by mere inches at the scoring loop on lap five, but the lead would be short-lived as Darland fought back to claim the top spot at the stripe on the sixth and seventh laps.
On lap eight, Beauchamp got a titanic run on the bottom that lunged him forward off the exit of turn four and into the lead, putting a five-car-length gap between himself and Darland in the ensuing laps.
After the stoppage of Chase Stockon brought out a caution at the halfway mark, the lap 15 restart saw Darland find his second wind. Just as the topside of the red clay surface appeared to fade, Darland quickly proved there was still something left up top as he clawed his way back on the outside to beat Beauchamp to the line on lap 16 by 14-thousandths of a second.
Meanwhile, Beauchamp drove his machine as straight as an arrow on the bottom, re-taking the lead by a car length on the 17th lap before Darland found another bullet in the chamber, reloading for another run at Beauchamp to reclaim the lead by a car length on laps 18 and 19.
By lap 20, the exit of turn two began to slip away as Darland was still able to pull even alongside Beauchamp between turns one and two, but was unable to find any moisture at the top of the second turn, hindering his forward motion as he faded and Beauchamp raced by on the inside and distanced himself from the rest of the field in the waning laps.
In the last 10 laps, it was all Brent Beauchamp, who pulled away to join Tyler Courtney and Kyle Cummins as the third different driver to claim his first career USAC victory during 2016 ISW over Brady Bacon, who slipped by Darland for second on the final lap. Kevin Thomas, Jr., a 2012 Bloomington ISW winner, was fourth while Thomas Meseraull drove the Landon Simon Racing car to its second straight fifth place finish.
Bloomington Speedway, the only track to host an ISW event in each year of the series' existence dating back to 1988, has now produced six first-time USAC National Sprint Car feature winners during its ISW round over the years: Brad Fox (1997), Cory Kruseman (1999), A.J. Anderson (2001), Brady Short (2006), Kevin Thomas, Jr. (2012) and now Beauchamp.
The spectacular 30-lap affair featured the most lead changes in a USAC National Sprint Car race since Lincoln Park Speedway's "Indiana Sprint Week" feature on July 21, 2001 that also involved Darland. In that event, Jon Stanbrough got by Darland on the final corner of the final lap to take a photo finish victory.
However, this night belonged to Beauchamp, the Avon, Indiana native who came into Friday night's race with only one career top-five finish in USAC National Sprint Car competition - a third at Bloomington's ISW round in 2012. He drove his Jeff Olson/Concrete Connection – Brownsburg Mufflers/Spike/J & D to a 1.85-second victory that was not indicative of the fierce battle that was waged between first-time winner Beauchamp and Darland, the winningest ISW and USAC National Sprint Car driver of all-time.
"I can't put this into words," Beauchamp said. "I said last night that winning a 'Sprint Week' race would be something that I literally would not be able to describe and, to do it here - a place that has eluded me for so long- it's a place I've wanted to win at so bad, but to do it during 'Sprint Week,' it's amazing. I felt like I was running a Kenyon car at the Speedrome when I was down there on the bottom. I just tried to roll it smooth and not get off the tires. I knew Dave was out there and I could sense that if I just hit my marks that I was better and could get away from him. When I got to the lapped cars, I just told myself not to do anything dumb and stuck it on bottom and then went wide coming to the checkered to try and block any sort of run. I am just so excited. This is amazing!"
In "Indiana Sprint Week," every little thing matters. Though he's run spectacularly all week, earlier in the night, during the Indy Race Parts fourth heat, ISW point leader Courtney skated over the turn one cushion and embarked on a wild series of flips over the backside of the banking. Though Courtney returned in a backup car for the semi-feature, he was unable to transfer, thus missing the feature and having to stand on the sidelines to witness his 32-point lead coming into Friday night quickly evaporate.
Courtney's misfortune was all Bacon's gain, as the Broken Arrow, Oklahoma driver's second place finish helped him leapfrog past Courtney to take over the ISW point lead heading into the final two races on Saturday night at Tri-State Speedway in Haubstadt and Sunday night at the Terre Haute Action Track in his Dynamics, Inc./Mean Green – Lykins Oil/Triple X/Williams Mopar.
"We caught a break when Hodges went by me and we got a yellow," Bacon admitted. "I calmed down after that and just tried to run the bottom and not make too many mistakes. I thought the top was going to be the place to be, but the bottom was just too good and the top was treacherous. Hats off to the track prep crew, though. To go through 50 cars in the middle of the summer without any prep breaks is fantastic. These last three tracks are three of our best, so we've got some momentum. We had to battle back all week, but tonight, we could get to the front and just sort of hang out, so that was nice. But I padded my bank account a little bit this week, so, hopefully, we can keep it up these last two nights."
It was a valiant effort for Lincoln, Indiana's Darland, who led on four different occasions for a total of nine laps and finished a strong third in his Jeff Walker-Curb-Agajanian Racing/Jam-It-In Storage – Hoosier Tire/Maxim/Claxton.
"We've been decent this year, but we're still learning," Darland acknowledges. "Jeff (Walker) and I are getting better. We were good last night and then tonight, obviously, too. We could get around Brent (Beauchamp) a few times, but the cushion just got so tough to run. I slipped the right rear over the edge a couple times in turn two, and then would just get hung up, so it was difficult. I had to shoot off of it a little early as we got going towards the end. But we were good tonight, so it's a step in the right direction."
Contingency award winners at Bloomington Speedway included Chad Boespflug (ProSource Fast Qualifier), Chris Windom (Simpson Race Products First Heat Race Winner), Chase Stockon (Competition Suspension, Inc. (CSI) Second Heat Race Winner), Logan Jarrett (Benic Enterprises Third Heat Race Winner), Hunter Schuerenberg (Indy Race Parts Fourth Heat Race Winner), Robert Ballou (KSE Racing Products/B&W Auto Mart Hard Charger) & A.J. Hopkins (Wilwood Brakes 13th Place Feature Finisher).
Back to News